Locations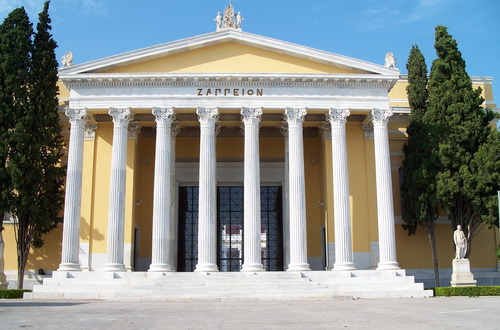 The ZAPPEION or Zappeio is one of the most important buildings of Athens, whose
construction was funded by Evangelos Zappas and is in the National Gardens. The neo-classical mansion is interwoven with the history of modern Greece and is now used for public and private exhibitions and ceremonies.
In 1869 the Greek government demarcated 80,000 m ² of public land for the building in the space between the palace gardens and the ancient Temple of Olympian Zeus. The Greek Parliament also passed law on November 30, 1869 specifically for construction of buildings of the Olympic Games since 1896 Zappeio was the world's first building that was built exclusively for the Olympic Games.
The first draft of the building prepared by the architect F. Boulanger, which was subsequently amended by Anastasios Theophilas and eventually abandoned. Konstantinos Zappas Instructs finally the design of the building to the Danish architect Theophil Hansen. After many delays the building founded the Nov. 20, 1874.The official inauguration took with festive manner on 20th October 1888.I architecture of the building followed the neoclassical style, with Corinthian portico. The building combined with tritoxoti Ilissiou stone bridge, which was built, also sponsored by Evangelos Zappas and surrounding gardens were the picture of Athens in the early 20th century. [3]. Unfortunately Evangelos Zappas did not live long enough to see the building in its final form. In his will he left his cousin Konstantinos Zappas responsible for the implementation and continuation of the charitable project.