Locations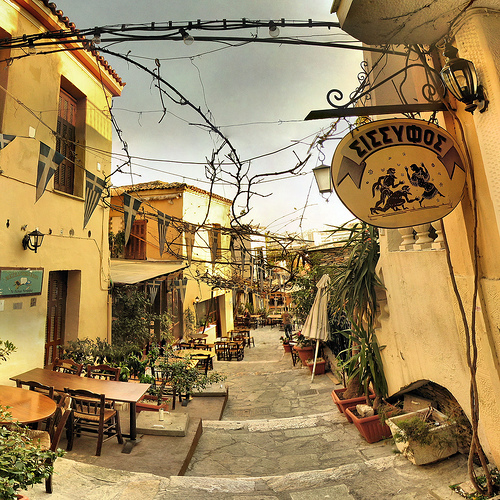 Plaka is a neighborhood in the center of Athens below the Acropolis.
Bordered to the south Makrigianni, east to the area of the Temple of Olympian Zeus and Zappiou north to the commercial center of Athens and the west Monastiraki.
After the war, the buildings of Plaka were preserved in their entirety, so that the plate is the only district of Athens, to the extent one can see the city as it was 100 years ago. In the area museums, taverns, restaurants, cafes and souvenir shops, while surviving buildings of famous citizens of old Athens.
In the part of Plaka to the Acropolis there Anafiotika. It is a district in Cycladic style, built from Anafi builders who, in the second half of the 19th century, seeking a district to build their homes, since the rest of Athens rental costs or purchase of land was expensive for them. Similar areas in which the emigrants brought the architecture of the place of origin, were elsewhere in Athens, but failed to survive the redevelopment over the years.
Near Plaka are subway stations Acropolis and Syntagma and tram stops Constitution and Zappeio, while many bus and trolley pass through the center of Athens, serving the transport needs of the region.